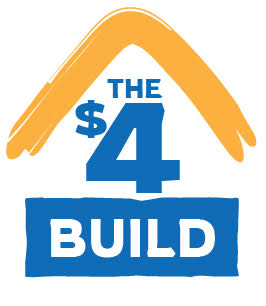 The $4 Build is a new opportunity where, together, we will build a house – $4 at a time.
This is not a general donation, but an invitation to join our Virtual Build Team on an ongoing basis and stay connected to our projects and current houses, particularly for our volunteers who have returned from an overseas build.
By donating $4 a week – $17.33 a month or $208 a year – you will become a vital member in building the next house. You will also be able to stay active in supporting our ongoing builds and projects into the future.
Why we're launching
this new initiative:
In the village of Prek Trob, Cambodia, it currently costs AUD $7,895 to build a home for a family. We hope that in just 20 weeks, a team of 100 $4 Builders (our donors) will raise enough money to build a house.
As many of our returning volunteers know, an immersion is an incredible experience that we are all privileged to take part in. The trips are an opportunity to change our perspective and help a family build their new home.
Our volunteers have helped to build over 920 houses in six different countries. If you have been on an immersion, no doubt you have dug trenches, laid bricks, and worked side by side with the families and watched as they opened the door to their new home for the first time... and even if you haven't been on one of our immersions, this is a great opportunity to join our network of volunteers to become vital members in building the next sustainable home.
SHOW YOUR SUPPORT AND SIGN UP FOR THE $4 BUILD TODAY!